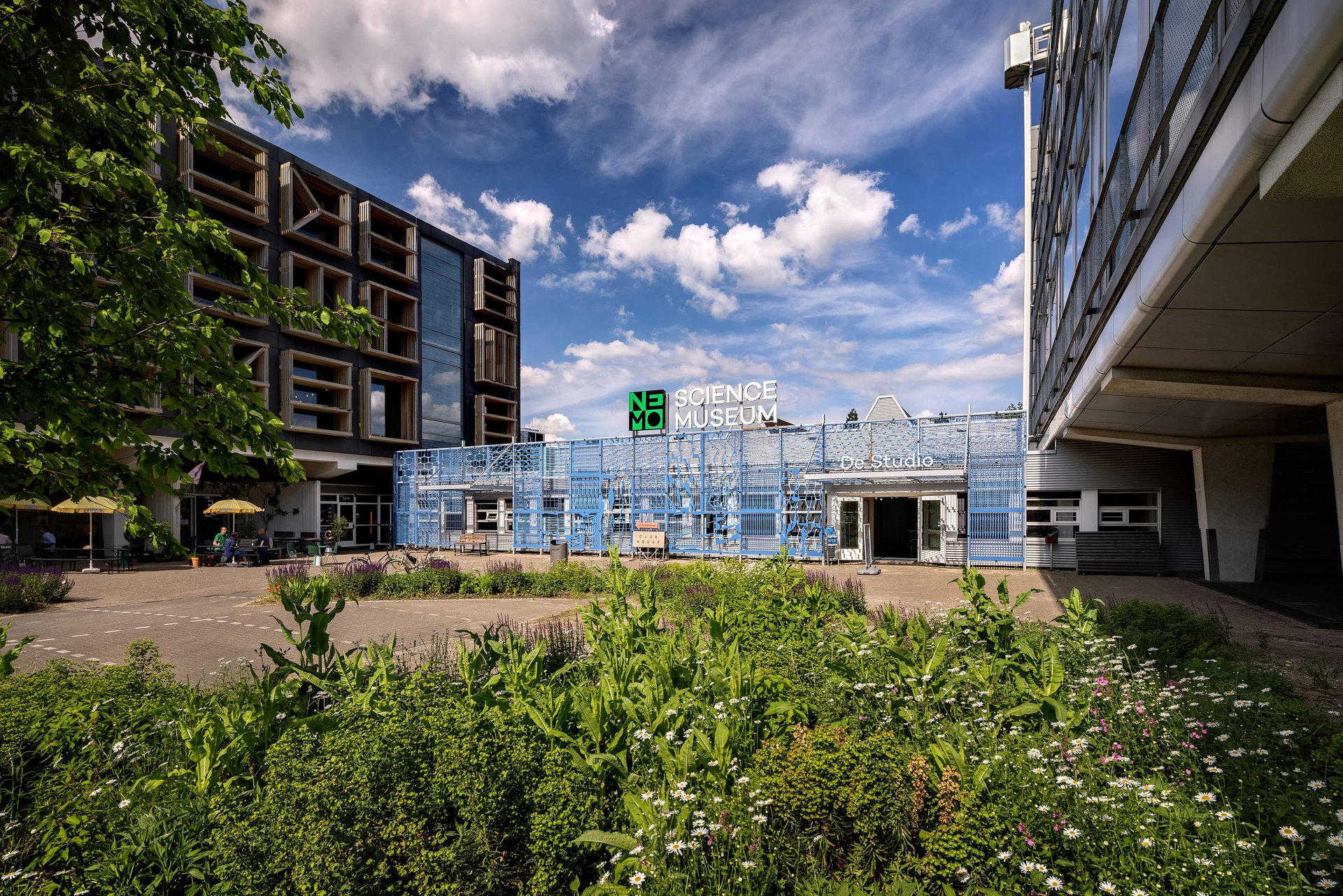 The Studio
NEMO Science Museum's Studio is an off-site location at the Marineterrein (in Amsterdam). Here, it presents a variety of programmes for adult audiences.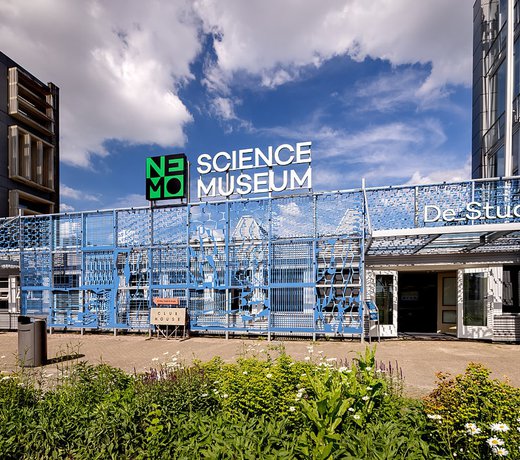 Buy your ticket
Visit our exhibition Energy Junkies in NEMO's Studio. Located at the Marineterrein in the centre of Amsterdam: Kattenburgerstraat 5, the buildingnumber is 027A.
Exhibition Energy Junkies
Visit the exhibition for adults at NEMO's Studio: Energy Junkies. Our addiction to energy, dependence on fossil fuels and the effects of our energy consumption on climate change are the focus of this exhibition.
In the Energy Junkies exhibition, you get to make the decisions that will determine our future. How would you transform our energy addiction into a healthy habit? Create your own carbon diet, choose the right medicines from the climate pharmacy and dream about a world where we are cured of our energy addiction. 
Read more about Energy Junkies.
Project Tomorrow
What will tomorrow's world look like? What role will science and technology play in that world? In Project Tomorrow, NEMO is setting out to explore the future, together with researchers and partners in knowledge and art. This leads to experimental exhibits and extraordinary installations. These raise questions, such as: Which inventions have enriched your life? Does humanity have sufficient control over new technologies? And just how smart should we allow those technologies to become?
When it comes to tomorrow's world, we all have different hopes and concerns. Discuss this on the Wonderwall – we'd love to hear your opinion!
Tickets, opening times & location
Opening times
Wednesday to Sunday: 12.00 to 17.30

Thursday 27 April 2023 (Kingsdag): closed.
Thursday 18 May (Ascension Day): open.
Monday 29 May (2nd day of Pentecost): open.
Tickets and prices 
You will need to purchase a separate ticket for The Studio. 

Admission adults: € 7.50
College- or studentcard, European Youth Card: € 3.75
Museumkaart, VriendenLoterij VIP-KAART, I amsterdam City Card,
Stadspas Amsterdam, ICOM card, Companion for person with a disability, Autipas holders: free
If you already have a ticket for NEMO Science Museum, you can then use that ticket to visit The Studio for free. Your visit does not need to take place on the same day. You will need to reserve a ticket with a specific start time in advance.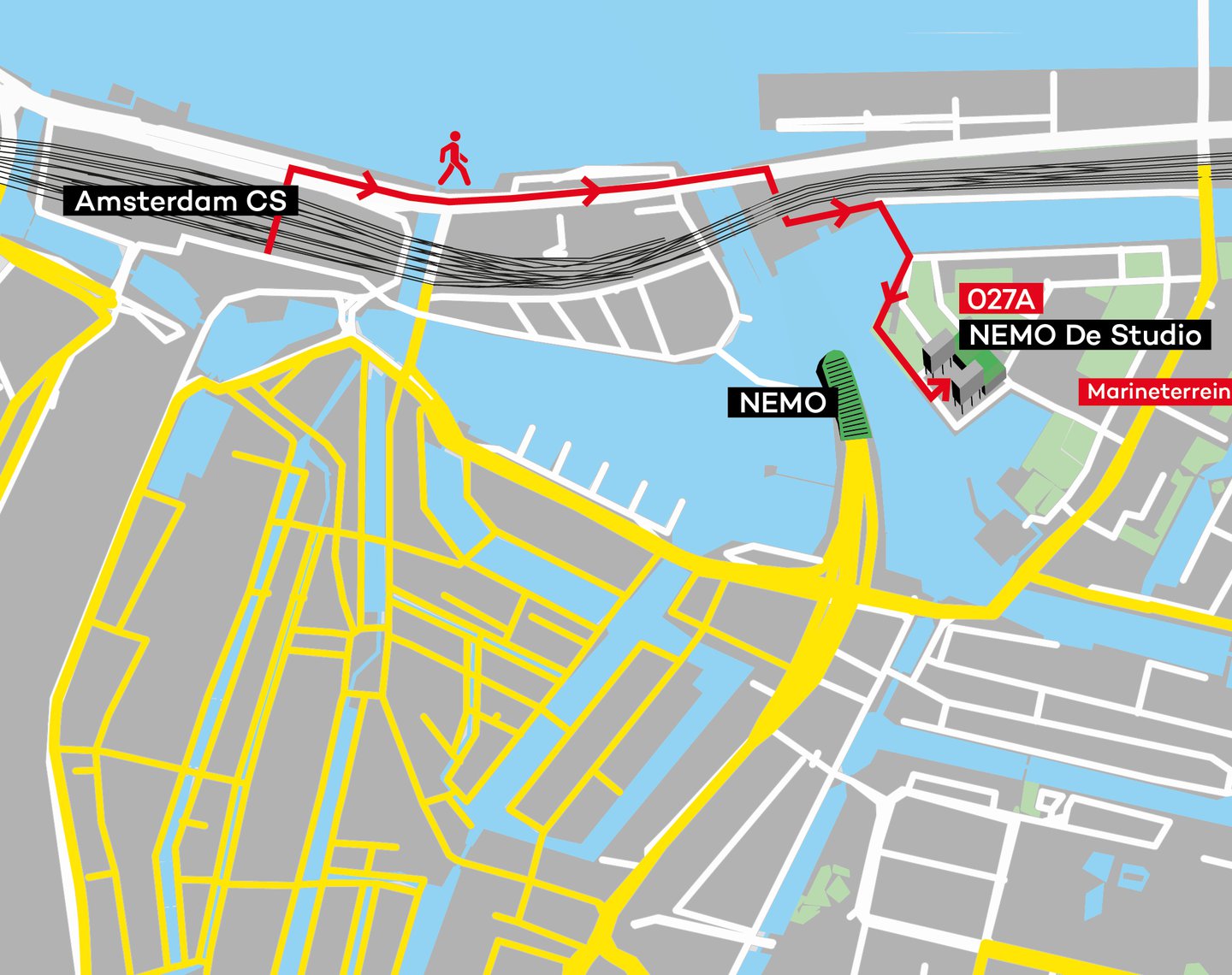 Location
The Studio is located at the Marineterrein (in Amsterdam), just follow the signs from the main entrance at Kattenburgerstraat 5. It is about 20 minutes' walk from Amsterdam Central Station. Directions to the Studio.
NEMO's Studio, Marineterrein, Kattenburgerstraat 5, building 027A in Amsterdam.
About The Studio
The NEMO Science Museum's Studio is an off-site location. This location is a laboratory where we cooperate with partners and the public on devising low-threshold and interactive programmes related to scientific and technological developments.
Previous exhibitions included: Future Food, Voices of the North Sea and Bits of You. Read more here about the previous programmes in NEMO's Studio.