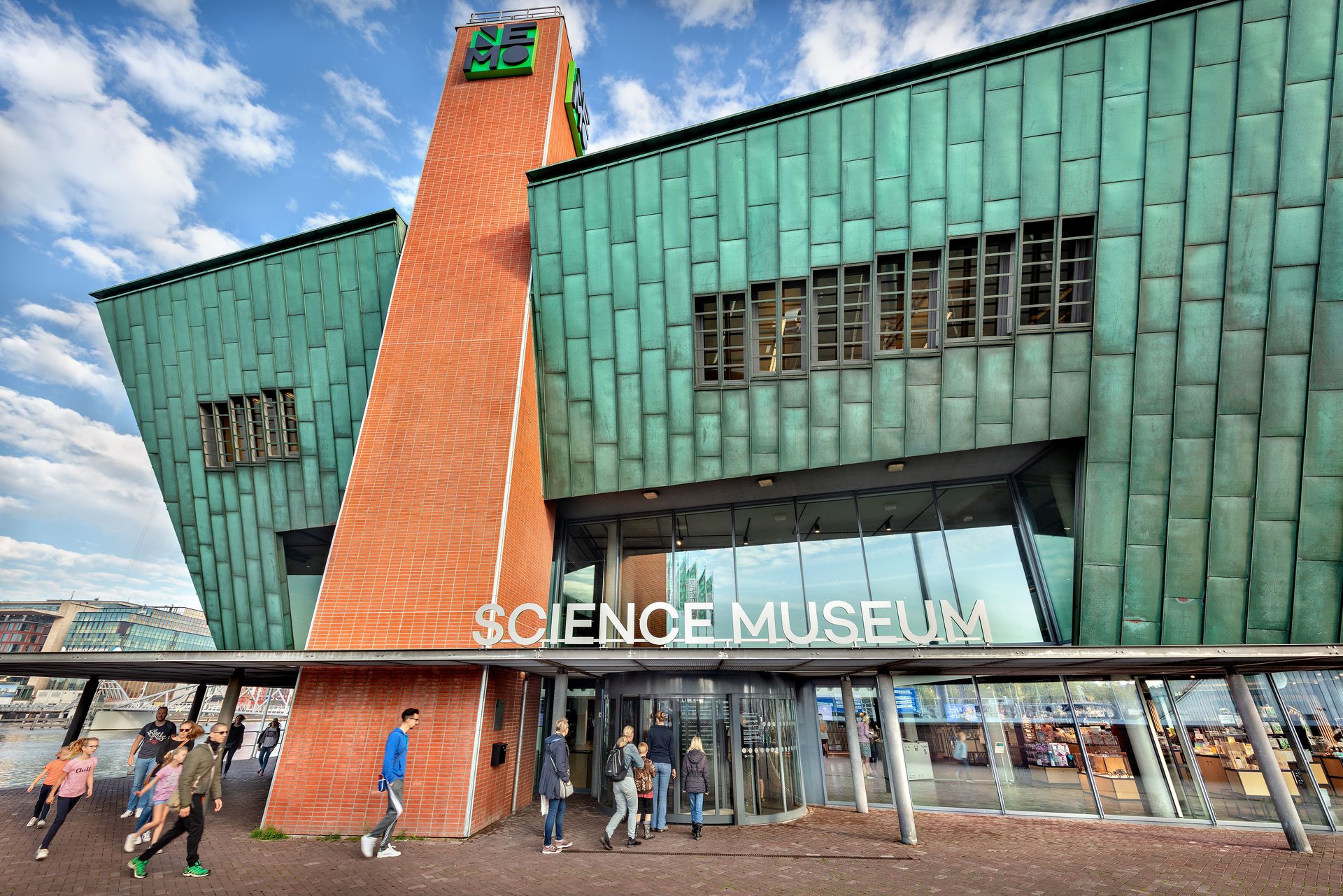 Accessibility
NEMO is designed to give everyone a fascinating and fun day out. On this page you'll find practical information about accessibility. If you have a question, please feel free to contact us. Museum staff are also on hand to offer assistance at the museum.
Wheelchair, rollator walker or mobility scooter
NEMO is wheelchair, rollator walker and mobility scooter friendly, except for the rooftop square. Lifts are provided throughout the museum. In the laboratory, one of the worktables is easily height-adjustable. Please feel free to approach a member of staff during your visit should you have any questions or need assistance. We're happy to help.
Accessible toilets
Accessible toilets are available on all levels in NEMO, with the exception of level 3. All our accessible toilets have a free space of at least 80 cm on one side and have handrails/grab bars and specially adapted washbasins.
Carers
Visitors who are unable to access and get around NEMO independently may bring a companion along free of charge, on presentation of a Companion Pass (Begeleiderspas) or Autism Passport (Autipas).
Guide and assistant dogs
Registered guide dogs are welcome at NEMO.
Tips for a quieter museum visit
You can book a ticket with a specific start time in advance via the website. NEMO is generally quieter from 14.00 on weekdays and in term time.
Visitors with a visual impairment
NEMO is committed to being open and accessible for visually impaired visitors. With this in mind, we have made various adaptations throughout NEMO, including the addition of high contrast colour schemes and providing the NaviLens app.
Route to NEMO
Unfortunately, the route to and from NEMO is not safely accessible for visitors with a visual impairment. Our current advice therefore is for visually impaired visitors not to attempt to take this route themselves. Ask someone who is visually unimpaired to accompany you or take a taxi from the station to NEMO.
Route in NEMO
There is no fixed route through NEMO. Visitors are free to move around the museum and to choose what they want to do.
On each level in the museum there are exhibitions that invite interaction, putting different senses to work. If you are visiting the museum without a carer, please ask a member of staff which exhibitions would be most suitable for you.
Navigation app for visitors with a visual impairment
eZwayZ is an app that is designed to make indoor navigation easy for people with a visual impairment. The app guides visitors through the different floors and exhibitions at NEMO.
Below is a summary of information on how to prepare for your visit to NEMO and use the app while at NEMO. Before using the app, please read the eZwayZ instructions carefully. eZwayZ is intended as an additional aid and is not a replacement for other existing mobility aids. Using eZwayZ is at your own risk.
Preparing for your visit to NEMO 
eZwayZ currently only works on an iPad or iPhone. Download the eZwayZ app in the App Store ahead of your visit to NEMO. Allow the app to access the camera on your iPad or iPhone and check out the 'Quick start'. 
Using the app at NEMO 
The app needs an internet connection. NEMO offers free wifi with the "NEMO Public" network. 
Localization  
Start the localization process in the app once you arrive at NEMO. Find a quiet spot in the Entrance Hall, stay in one place and hold your phone upright and vertical. 
There is a white circle in the middle of the localization screen. The phone is in the correct position when the blue circle is centred in the white circle. You should hear a sound when the localization is complete. 
Navigation 
There are two ways to navigate using eZwayZ: 
Search for a location in the category list or use the search field. 
Explore the surroundings in a 360-degree view and select a location.  
Once a location is selected, the route starts. The app offers different ways of helping you to find your way around the building: visual instructions, vibrations, spoken audio, sound effects or a combination of these signals. It is recommended to wear earpieces when using audio. 
Feedback
eZwayZ is developing all the time. The current version allows visitors to navigate. In the next phase, image descriptions and instruction texts will also be added.  
NEMO would like you to hear your experiences. The app includes a feedback option or email your feedback and any queries to info@e-nemo.nl. This information is collected and used to further optimize the app. 
NEMO partners with the Bartiméus Fund to improve visual accessibility.