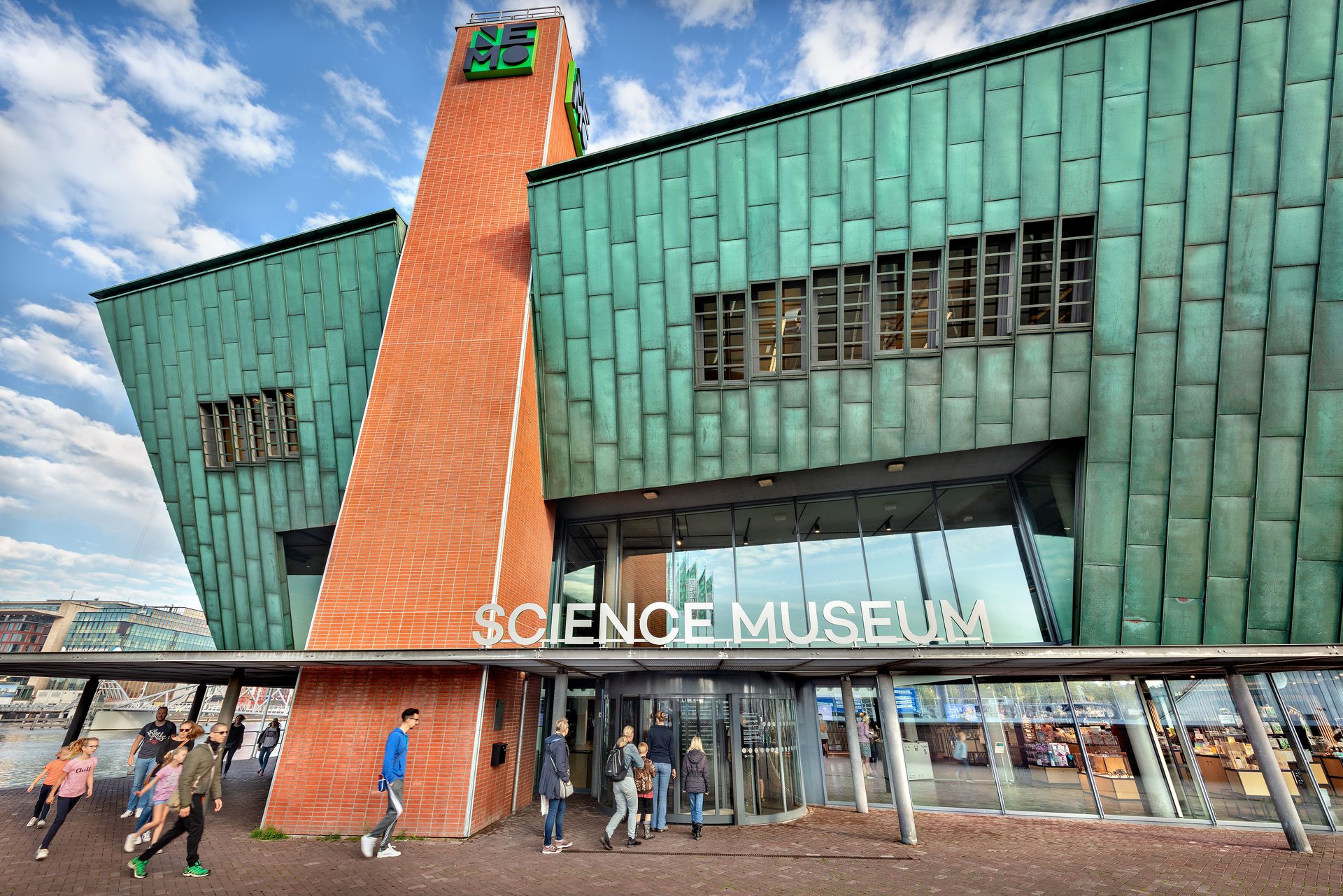 Accessibility
NEMO is designed to give everyone a fascinating and fun day out. On this page you'll find practical information about accessibility. If you have a question, please feel free to contact us. Museum staff are also on hand to offer assistance at the museum.
Wheelchair, rollator walker or mobility scooter
NEMO is wheelchair, rollator walker and mobility scooter friendly, except for the rooftop square. Lifts are provided throughout the museum. In the laboratory, one of the worktables is easily height-adjustable. Please feel free to approach a member of staff during your visit should you have any questions or need assistance. We're happy to help.
Accessible toilets
Accessible toilets are available on all levels in NEMO, with the exception of level 3. All our accessible toilets have a free space of at least 80 cm on one side and have handrails/grab bars and specially adapted washbasins.
Carers
Visitors who are unable to access and get around NEMO independently may bring a companion along free of charge, on presentation of a Companion Pass (Begeleiderspas) or Autism Passport (Autipas).
Guide and assistant dogs
Registered guide dogs are welcome at NEMO.
Tips for a quieter museum visit
You can book a ticket with a specific start time in advance via the website. NEMO is generally quieter from 14.00 on weekdays and in term time.
Visitors with a visual impairment
NEMO is committed to being open and accessible for visually impaired visitors. With this in mind, we have made various adaptations throughout NEMO, including the addition of high contrast colour schemes and providing the NaviLens app.
Route to NEMO
Unfortunately, the route to and from NEMO is not safely accessible for visitors with a visual impairment. Our current advice therefore is for visually impaired visitors not to attempt to take this route themselves. Ask someone who is visually unimpaired to accompany you or take a taxi from the station to NEMO.
Route in NEMO
There is no fixed route through NEMO. You are free to move around the museum as you wish and choose what you want to do.
On each level in the museum there are exhibitions that invite interaction, making them very accessible. If you are visiting the museum without a carer, please ask a member of staff which exhibitions would be most suitable for you.
NaviLens app
In the Pure Water exhibition on level 2 you can use the NaviLens app to read out the information panels. Open the NaviLens app, scan the colour code with your smartphone and the information on the panel will be read out.
Download the NaviLens app from Google Play.
Download the NaviLens app from the App Store.
Once you have downloaded the NaviLens app, you need to allow the app to access your camera. It is possible to customise the app settings to your liking.
At the bottom left of the NaviLens app is a blue icon with three horizontal white lines - this is the main menu. A short guide to using the NaviLens app can be found under the heading 'help' in this menu. Here you can find several options, including one which explains how to adjust the speed at which the app speaks.
Besides the use of NaviLens, NEMO is working with the Bartiméus Fund on improving museum visits for visitors with a visual impairment.