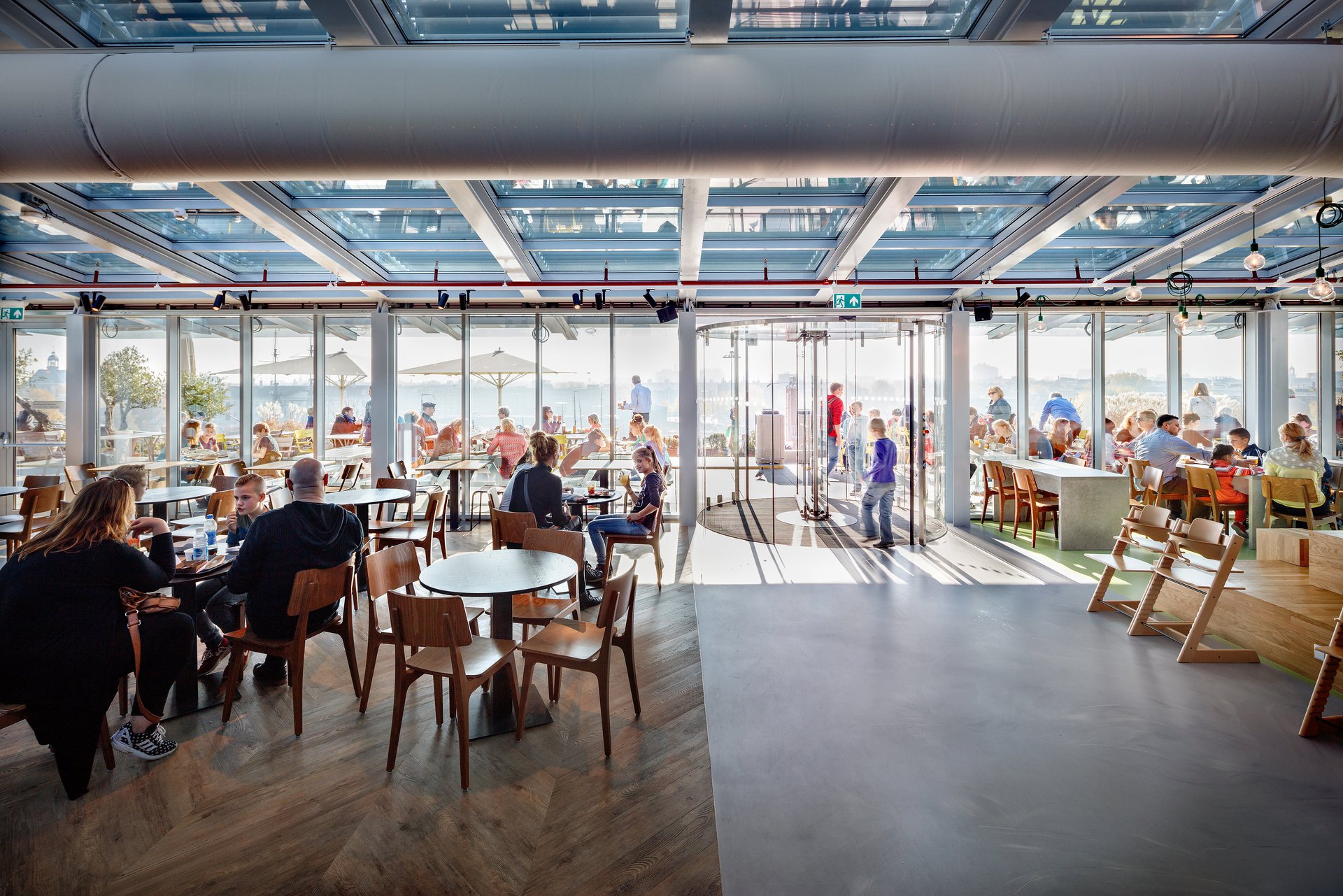 Food and drink
Delicious, homemade and healthy. That's the quality of food and drink you can expect from the museum's restaurant and cafés. At NEMO we opt for sustainable and wholesome ingredients. Enjoy a glass of fresh fruit juice, a homemade cake or a delicious meal. Do you have an allergy? Are you on a special diet? Our chefs will be happy to tell you everything you need to know about our ingredients.
Restaurant
Up on the roof you'll find our restaurant designed by the renowned architect Renzo Piano, with panoramic vistas. Enjoy a glass of homemade lemonade or a delectable sandwich in the spacious, glass lounge. You are also welcome to visit the restaurant without a ticket.
Coffee bar
The Coffee bar is located just beyond the ticket inspection point. Here you can wind down after your journey and find out about everything that NEMO has to offer. Enjoy a delicious cup of tea or coffee, with a cake, while you're at it.
Cafe
The cafe is located at the heart of the museum, on the second floor. It's a good spot to take a short break and enjoy a drink or a sandwich. With your batteries recharged, you can then continue on your voyage of discovery through NEMO.
Bringing your own food and drink
You are welcome to bring your own lunch to NEMO. To make sure the museum stays nice and clean, we prefer it if people do not eat or drink around the exhibits. There are a few designated areas where you can consume your own food and drinks. Ask one of our staff members where you can find these areas.
Temporary closure Museum Restaurant
Due to a remodeling of the kitchen, the Museum Restaurant on the fifth floor will be closed from September 4 through September 28. The Café on the second floor will remain open for sandwiches and drinks. The Coffee Bar and Rooftop Bar will also be open.