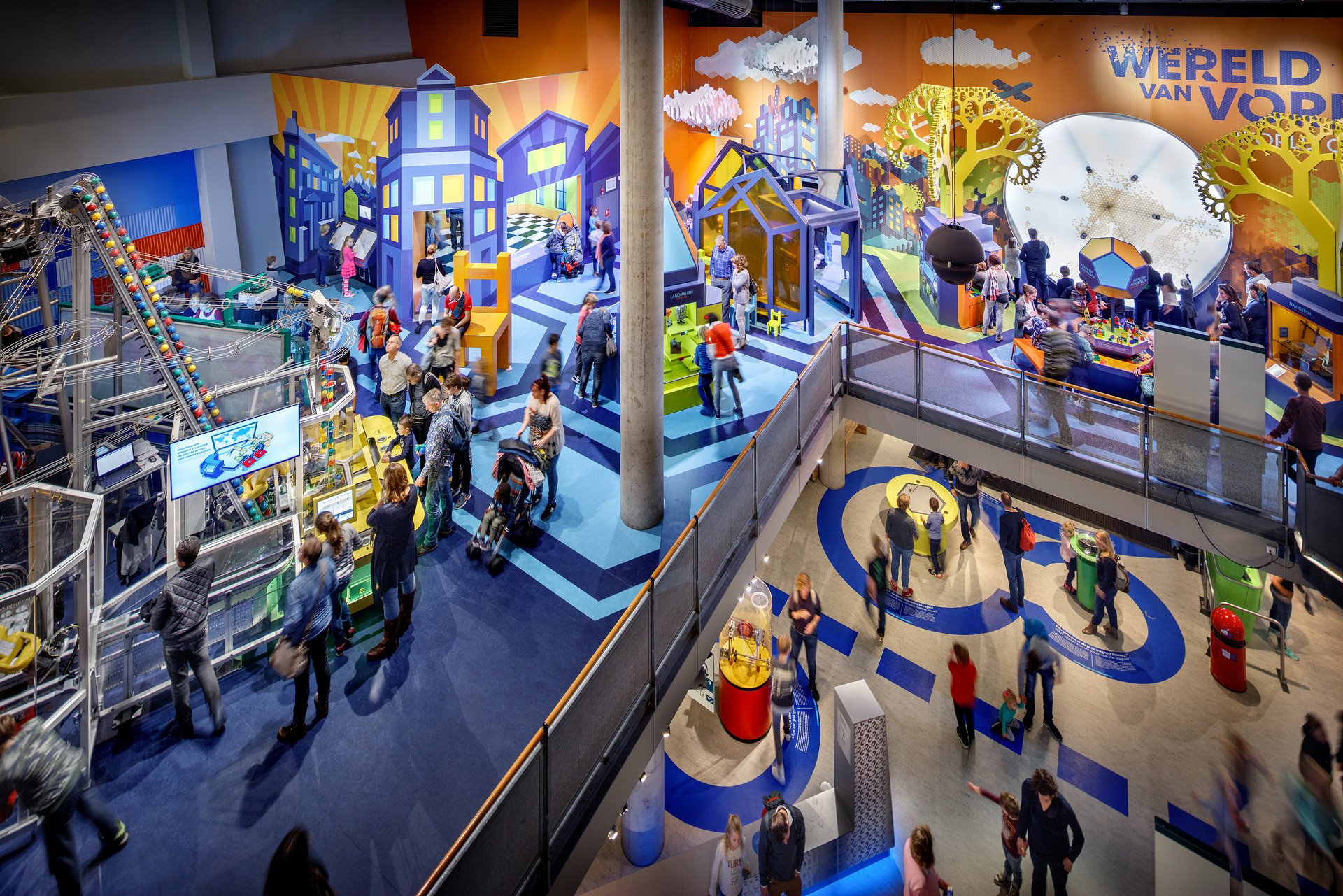 Floors
On five floors at NEMO, you can experience how science works, unravel the technology around you, study the building blocks of the cosmos, discover who you are, and play with energy.
1 Fenomena
In Fenomena, on the first floor, you will experience how science works. Science helps you to better understand the world around you. Investigate the true nature of natural phenomena like light, sound and static electricity. In just a few steps, learn how to perform a solid piece of scientific research. Find out how science has evolved throughout the centuries, step into the world of an eighteenth-century scientific society, and visit the oldest museum in the Netherlands. Get involved in genuine scientific research work, in Science Live. Help to make NEMO better, by testing new exhibitions and workshops in NEMO Research & Development. 
2 Technium
Unravel the technology around you, in Technium, on the second floor. Technology enables us to shape and improve the world. Build a robust structure and take into account the forces acting on it. Design, make, test and improve simple technical products in the Maker Space. Explore the power of water, find out all about water treatment, and prevent flooding in the Netherlands. Become part of a logistical process and learn all about the world behind online orders. See how devices from the past form the basis for the technological gadgets of today. Find out how the world around us is made up of mathematical shapes and patterns. Learn why it is better to replace fossil fuels with other, renewable, energy sources. 
3 Elementa
Learn about the building blocks of the cosmos in Elementa, on the third floor.  Everything around you, including you yourself, is composed of these building blocks (atoms). Go back in time to the Big Bang, learn about stars that existed billions of years ago and how they now make up our world. Find out what life actually is, and what makes life on a planet possible. Discover that cosmic rays are everywhere, but go entirely unnoticed. See the biggest explosions in space. Use one of the microscopes to view the tiniest particles. Put on a lab coat and perform your own experiments in the laboratory.
4 Humania
In Humania, on the fourth floor, you can discover who you are in your true essence. If you want to find out all about the living world, the best place to start – of course – is your own body. Do some amazing experiments and find out how the human brain works. Find out what makes you human, and how very important your brain is in this story. Discover that, while we all seem to be very similar, each of us is actually quite unique. Challenge your senses and closely examine your strengths and weaknesses. Learn all about your health, memory, happiness, face and behaviour.
5 Energetica
In Energetica, on the rooftop square, you can play with energy. We need energy in everyday life, and that energy is all around us. Experience the power of renewable energy sources such as wind, water and sun on NEMO's roof, where entry is free of charge. Generate your own energy and battle the elements. Play with water and create your own rainbow. Tell the time by using your own body as the pointer of an enormous sundial. Chill out in a comfortable chair fitted with solar panels, and watch sculptures that move in the wind. Relax and enjoy lunch or a cup of coffee in the restaurant, which offers an impressive view of Amsterdam.